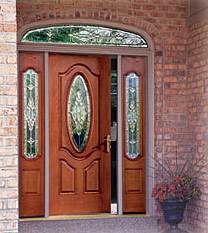 Needing a new entry door? Doors Galore is a proud dealer of Masonite, Provia and Therma Tru Entry doors. They are the leaders in style, efficiency and safety. Doors Galore will come out to your home and give you a FREE estimate on a new entry door. Need a repair? Give us a call. We have professional technicians that are ready and waiting to make sure your home is secure.
Masonite was founded in 1924 and is known for beauty, lasting durability and timeless performance. They are constantly improving their product, down to the finest of details, through dedication and a commitment to perfection. Masonite believes that safety and health are just as important as profitability, quality and productivity.
ProVia is nestled within the rolling hills of Sugarcreek, Ohio, the heart of the nation's largest Amish population. The company was started in a garage by Bill Mullet more than 35 years ago and has grown into a nationally known manufacturer of high quality entry door systems, energy-efficient windows, super polymer vinyl siding and artfully-crafted, manufactured stone.
Therma-Tru's roots go back to 1962 when David Welles, a retired Owens Corning executive purchased a bankrupt building supply company in Toledo, Ohio. In 1982, the company launched its Fiber-Classic style, the first fiberglass door on the market.