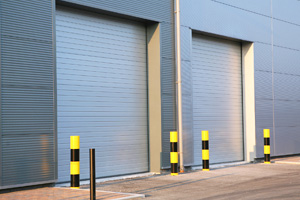 Is your door beyond repair?
Our highly educated sales team members will come to your business and give you an estimate on our quality product for FREE! In the meantime, try designing a custom door made specifically for you! We offer numerous options geared around a business and can assist you in choosing the best option that fits your needs.
Doors Galore is a proud dealer of Amarr and Wayne Dalton garage doors, which are both members of the International Door Association.
Amarr was founded in 1951 and is a leader in style and safety for commercial garage doors. Amarr also offers sectional and rolling steel commercial doors. Doors Galore is just 1 of over 3000 independent Amarr dealers.
The right garage door has a great impact on the curb appeal of your home. Wayne Dalton offers you a wide selection of designs, colors, materials, windows and accessories that best compliment your home. And, with a vast network of dealers, it's likely that a Wayne Dalton dealer is nearby, ready to provide you with the right door for your home.


---
Door Openers
Whether you have a light duty or heavy duty application we have the right opener for you. Doors Galore offers several different options from traditional trolly openers to side mount jackshafts. No matter the application our team will make sure you get the correct opener for your type of door, and specifically geared for your business. Call today for a free estimate.
---
Gate Openers
Commercial gate openers are not just for big businesses. If you have a gate on your home driveway, Doors Galore can service or install gate openers to conveniently allow you easy access to your home. If you have an existing gate opener, we have several factory-trained technicians who will come to your home or business to service your needs. New remotes? No problem, we keep almost all makes and brands in stock. We also offer same day service to ensure you are never left out in the cold.
Make Doors Galore your hassle free gate opener partner for your needs now or in the future.

---
Car Wash Doors and Openers
Doors Galore services numerous carwashes in the miami valley. If your door carwash door or opener is not working right you are losing valuable dollars. Doors Galore will get your door or opener up and running in no time. Doors Galore also offers replacement door sand openers. Contact us today for a free estimate.

Airlift Doors, Inc. has been a leader in the commercial door business for over 25 years. They have been manufacturing air powered openers since 1979 and polycarbonate doors since 1991. They specialize in car care applications such as car washes, service bays, car dealerships, oil change bays, salt storage sheds, and vehicle showrooms.
Ultimate Supplies manufactures and distributes innovative energy saving equipment nationwide. Their product line includes stainless steel radiant heaters, polycarbonate doors, air powered door operators, carwash buildings and much more. Committed to the needs of their clients, they have separate divisions to serve our carwash, greenhouse and industrial customers. They also offer unparalleled product quality, design expertise and services that are backed by a 10 year warranty.